Gratitude Retreat Weekend in Northern Arizona…
A cozy, fall retreat to nourish your soul mojo.
October 24-27 2019 | Flagstaff/Sedona AZ | $350-$600
Nestled away in a Flagstaff neighborhood, we will have this beautiful home to ourselves. This is a very special retreat for 6-8 women who want to release the summer and bring some magic into the close of the year. Gratitude is a word we hear so often, some of us love it while others are challenged by it. Our weekend together will allow us to discuss and explore what gratitude really means to each of us and ways we can bring it into our daily lives in a more meaningful way.
I've wanted to lead a local retreat like this for a long time, and I feel this is the perfect time to bring a small group of women together to learn from each other, take care of ourselves deeply, and be immersed in yoga, nature, and good food!
The Weekend At A Glance…
Thursday:
Take your time to drive up and we will gather at the house at 5pm. There will be time to get settled in our rooms, meet the group, and have a home-cooked meal together. The evening will end with an optional yoga nidra to get you in the right frame of mind for a good nights rest.
Friday:
We start our day with yoga, of course! Followed with a nourishing, home-cooked breakfast. We will be adventuring Friday with a 30 minute drive to Westfork (named one of the top 10 hikes in the country) where we can hike for the afternoon and splash around in the creek. This will be an excellent opportunity to get connected with nature and fill up on vitamin "G" (if you don't know what that means, you will after the retreat!). At the end of our hike, we will make another short drive to Sedona for a bite to eat and then head to our cozy home for hot tubbing and yoga nidra.
Saturday:
Our day will start with yoga again! Followed by a healthy, home-cooked breakfast. There will be a little more free time now for journaling and reflection, or walking through the neighborhood and playing. In the afternoon, we will create gratitude boards and go through some specially crafted activities together. We will gather for drinks and a final, home-cooked dinner together and cap our night with an always optional yoga nidra.
Sunday:
We will begin our day with yoga and a gratitude meditation. Closing our time together with breakfast and hugs. Check out is between 10 & 11am. You're welcome to wander on your way back to Phoenix and spend some time enjoying downtown Flagstaff or you might head over to the town of Pine and tour the Lavender Farm!
***Please allow for slight schedule modifications due to group preferences or weather issues***
Your hOMe away from home awaits…
Please Select Your Room Accommodations:
***Note that fees and taxes may be waived by arranging check or cash payments.
This bedroom has a king bed and its own, attached bathroom. This room can be booked as a single for $600 or bring a friend to share your room for $375 each.
- THIS ROOM IS NO LONGER AVAILABLE -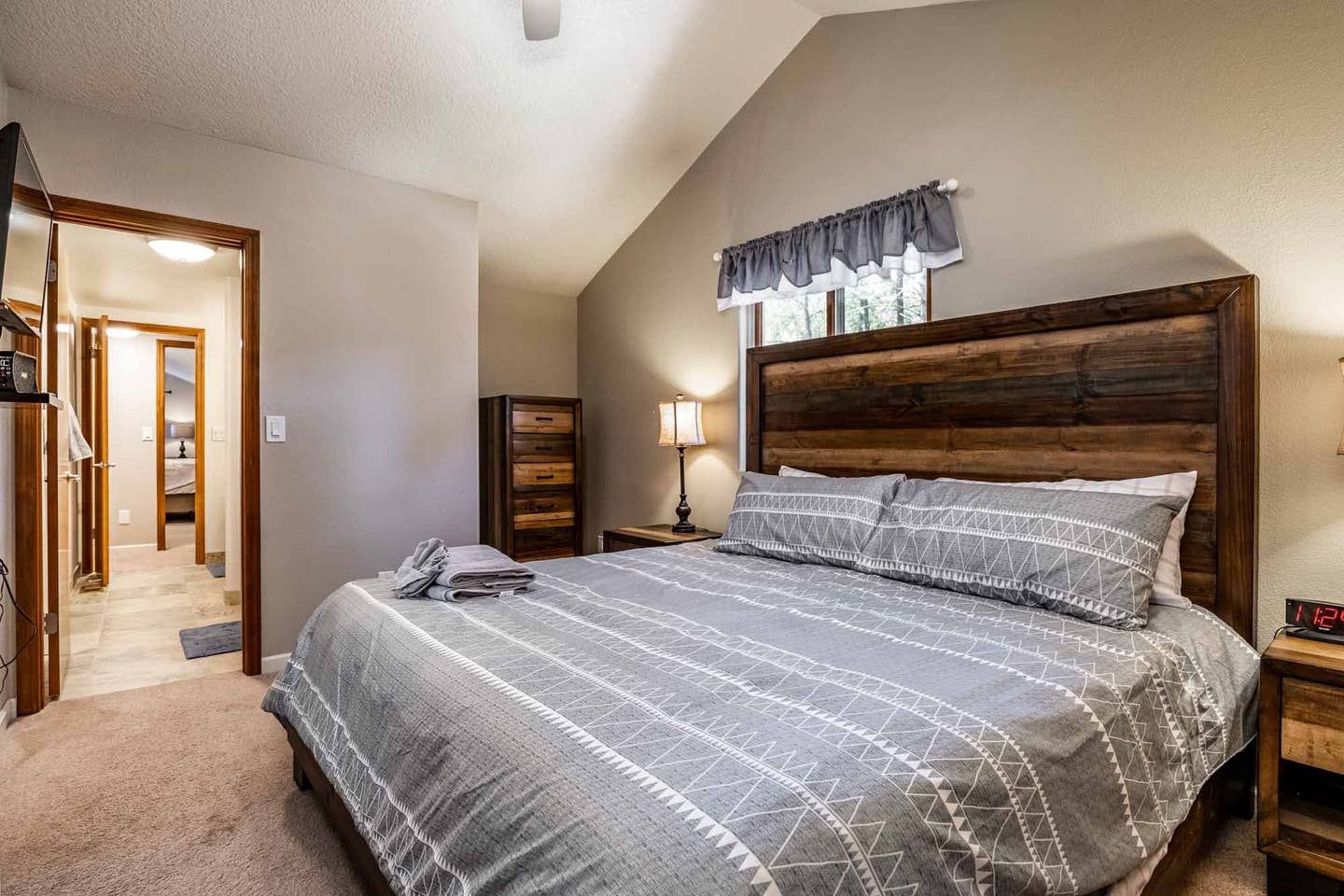 This bedroom has a king bed and a shared/jack and jill style bathroom attached. This room can be booked as a single for $550 or bring a friend to share your room for $350 each.
- THIS ROOM IS NO LONGER AVAILABLE -
#3 The Loving-Kindness Room
This room has 2 king beds and shares an attached bathroom with the Gratitude Room. This room can be booked for $525 per person.
- THIS ROOM IS NO LONGER AVAILABLE -
This bedroom is on the main floor and is set up with a bunk bed style. It has a full bathroom just a few feet down the hall. This room can be booked for $400 per person.