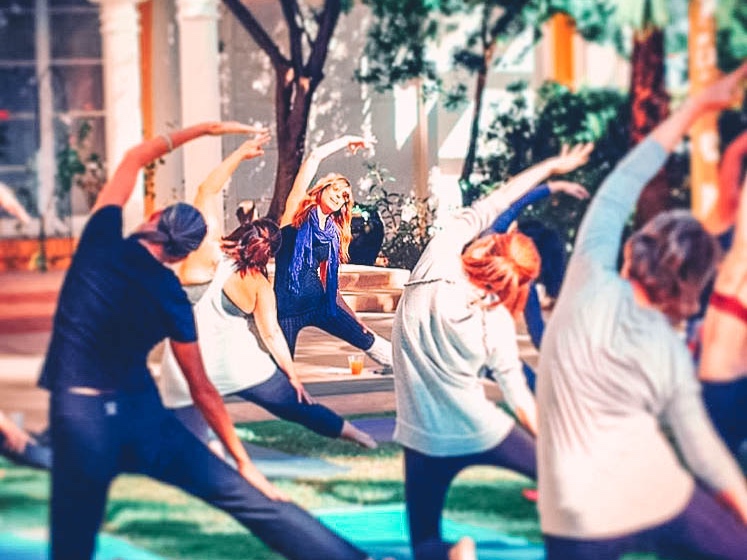 An easy flowing weekend workshop.
Sunday, september 22nd | 6-8pm | $22 preregistration required | at om3 yoga
We are in the last heat of summer and our bodies, whether we notice or not, become depleted from the heat and hustle. This event will be the perfect way to say good-bye to the summer and use the tools of yoga to refresh our bodies, minds, and hearts. We will do some gentle movement to release muscle tension and stiffness, learn a simple mantra (chant) to increase our energy and positive vibrations, and relax in nervous system balancing restorative poses while listening to gentle handpan music. There will be special yogi tea served after so you'll have time to ground before your drive home. I would LOVE to see you and guide you through this special evening!
this event may sell out so don't wait!
It's Back! Pizza. Yoga. Wine.
The BEST Sunday Funday is happening again!
SUNDAY, october 20th | 2-4pm | $25 EARLY $30 DAY OF | at BELLA gusto Pizzeria
We had an AMAZING amount of fun doing this event in August so we've decided to do it again!! Come celebrate all the good things in life - Award winning pizza, yoga with an award winning teacher, and beer & wine to your heart's content. We start with a one hour yoga class and follow it up with your own personal pizza and drinks! This will be held as an exclusive "before hours" event so we'll have the place to ourselves to eat, drink, and be merry. This is the perfect event to bring friends and family to, so gather your favorite people and let's have some fun!
No experience needed to attend but space is limited so sign up and save your spot. Please bring your own yoga mat. Event held inside Bella Gusto Pizzeria in Chandler.
Fall is here and we're celebrating with a gratitude retreat up north! October 24-27 So cozy and rejuvenating! Full details coming soon!
Are you up for an adventure of a lifetime, together? Click here to visit our official Bali 2020 Retreat page!
other Upcoming events and Retreats:
I am always crafting more events and looking for suggestions and collaborations! Subscribe to my email list to stay in the know as details are released!
If you'd like to host an event, collaborate, or have questions about events, workshops, or retreats please reach out!